Poster presenters must upload their posters by following the instructions that will be sent to them when the poster sessions are set up by the LOC. This is a separate process from the SPMS paper submission.
Document quality
All posters must be uploaded in PDF/A format for better visualization on a wide range of systems. Instructions on how to generate a file with high quality and reasonable files from popular tools are suggested below.
Poster format
All posters must have the IBIC 2020 logo (available in black and white versions) visible, with the poster code assigned by SPMS easily visible for easy reference by readers who have downloaded your poster.
The poster should follow the traditional printed format, and as long as readability is observed, you may chose between usual formats. We suggest following the traditional A0 portrait, or a similar format around 80x120 cm, format as in previous IBIC editions. A0 landscape format is also a good alternative for viewing the poster by the screen sharing.
Templates for different poster formats may be found in the following websites:
Technical details
To ensure files with high quality and low file size for downloading, and also to avoid problems caused by differences in computer setup, please follow the following technical guidelines:
Format: PDF/A
Image resolution: 150dpi
JPEG compression: 90%
Generating the PDF from PowerPoint
Prefer using PowerPoint internal tool instead of a virtual printing to generate the PDF. Do not export notes, remarks, ink, or any supporting features. To do so, follow the instructions below:
Click the Create PDF/XPS button on File -> Export -> Create PDF/XPS document
In the Optimize session, choose "Minimum size (publishing online)"

Click the "Options..." button

Make sure all options are turned off, except PDF/A compliant. It should be similar to the following screenshot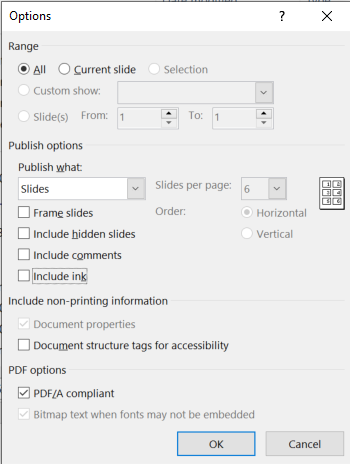 Click Ok and then, Publish.
Generating the PDF from LibreOffice Impress
Prefer using Impress' "Export as PDF" instead of a virtual printing to generate the PDF. Do not export notes, remarks, ink, or any supporting features. To do so, follow the instructions below:
Click on "File", then "Export as PDF"

In the "Images" session:

Select "JPEG compression" and set Quality to 90%

Select "Reduce image resolution" and select 150dpi.

In the General session:

Check the "Archive PDF/A-1A (ISO19005-1)" option

Leave all the "Export..." options unchecked.

Your configuration should be similar to the following screenshot: