Airports
The main international airport serving the Santos area is the Guarulhos International Airport (GRU). Although other airport options do exist in the area, we strongly discourage you to use them as they have non straight forward connections to Santos.
Mobile Phone and Data
Roaming in Brazil may be very expensive. It is recommended to purchase a SIM card at the airport when arriving in Brazil. Alternatively, the shopping mall annex to the conference venue has two stores with SIM cards available for international visitors: Claro and Vivo.
Important: you must choose a SIM card requiring only passport numbers for activation. Standard SIM cards in Brazil requires Brazilian documents and can not be used by foreigners.
Travel insurance
You may consider an insurance policy of your choice to protect your interests in relation to cancellations, medical expenses, loss or damage to personal property. The conference organizers cannot take any responsibility for participants failing to arrange their own insurance.
Vaccination
It is recommended that you check the rules in your country of origin about the vaccination requirements.
Brazilian authorities do not require individuals to take vaccines to enter Brazil but strongly recommends taking yellow fever vaccines for some Brazilian States, including the State of the venue, São Paulo. More information can be found here.
Exchange money
Brazilian Real (BRL or R$) is the currency used in Brazil. It is recommended to exchange money at the Guarulhos Airport (GRU) currency exchange offices or ATMs. Although credit cards are well accepted in Brazil, we strongly recommend to carry some money in cash with you before leaving the airport.
Note that if you leave the Guarulhos airport by bus to Santos and are not able to take an Uber from the Santos bus station to Bourbon Santos Convention Hotel, it is recommended to have some money in cash, as not all taxis accept credit cards.
Electricity
You may need adapters to plug in your electric/electronic devices. The standard sockets in Brazil is shown in the picture below. Some legacy sockets which are compatible with US plugs and 2-pin European plugs may still be available in the hotel, but their availability is not guaranteed.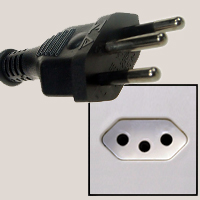 The voltage in Santos city is 220 Volts. If you intend to travel to other Brazilian cities, beware you may encounter 127 Volts sockets in some of them!
Accessibility
If you require disability specific facilities, please notify the Local Organizing Committee.
Tipping
Tipping is not as widespread or regulated in Brazil as it is in other parts of the world. A 10% tip is usually included or suggested in bills in bars and restaurants. Costumers generally pay for it if the service is satisfactory. It is not necessary to add any value to that. It is also customary to tip hotel porters and housekeeping.