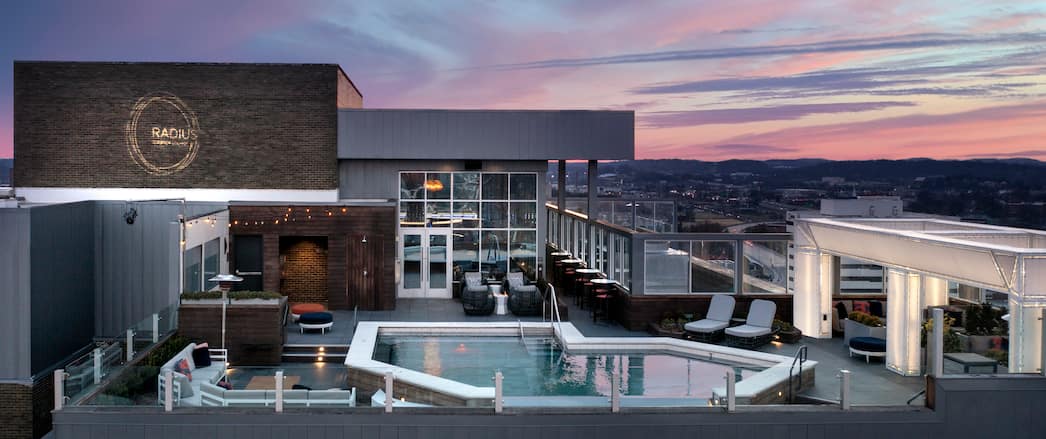 The workshop will meet in the Embassy Suites in downtown Knoxville. The Embassy Suites is located in the middle of the main Knoxville business district. There are many good dining options within a short walk from the hotel. We are sure you will enjoy the hotel amenities, including daily complimentary happy hour at the rooftop bar.
The group rate for rooms will be around $115/night (excluding fees and taxes). The deadline for securing a hotel room is October 6th. Earlier reservations are strongly encouraged due to high travel demand from University football games on the weekends. Please note that it will be hard to get a room on Friday and Saturday November 11 and 12 due to the UTK football game. Hotel reservations with the discounted rates will be made available as part of the registration process on the wiki page


The nearest airport is Tyson McGhee (TYS): https://flyknoxville.com. The distance from TYS to the workshop venue is 20-30 minutes by car.
Connecting through TYS is recommended. The next nearest major airports are Nashville and Atlanta. For both, the travel time to Knoxville is approximately 3 hours by car.
There is no public transit from TYS to Knoxville. The best options are to rent a car, or arrange a ride via Taxi or rideshare.
If traveling by personal or rental car, please note that the hotel only offers valet parking at $28/day. Self-park options can be found at nearby public garages: https://knoxparking.com/rates.html.
For taxis, reservations can be made in advance, contact information for taxi companies can be found here: https://flyknoxville.com/ground-transportation/
There is a bus system that operates within Knoxville: https://www.katbus.com/ A free trolley bus operates in the downtown area: https://www.katbus.com/DocumentCenter/View/106/Trolley-System-Map-PDF (Note that the trolley will not run the Saturday before or after the workshop.)